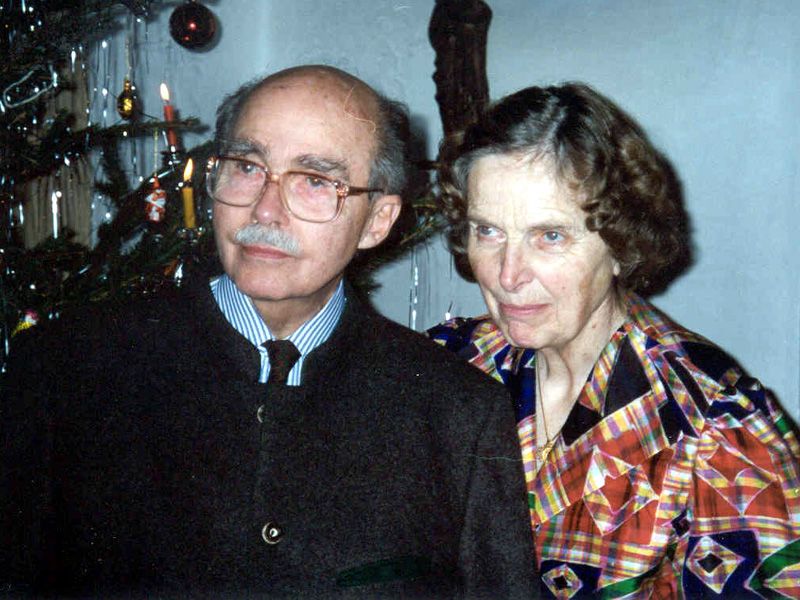 A great European passed away on 4 July 2011: Otto Habsburg-Lothringen, son of the last Austrian Emperor and Empress, Karl and Zita, passed away in his house in the Bavarian town of Pöcking. He was 98 years old. Otto Habsburg-Lothringen will be buried together with his wife Regina, who died in February 2010, in Vienna's Imperial Burial Vault on 16 July 2011.
Otto Habsburg-Lothringen and his wife Regina (née Princess of Saxony-Meiningen) will be the last members of the former imperial court to be buried in the family vault next to Otto's mother, Empress Zita. On Thursday and Friday (14 and 15 July 2011), the two deceased will lie in state in the Capuchin Church. The requiem for Otto Habsburg will take place on Saturday 16 July 2011 at 3:00pm in the Stephansdom. After that, the funeral procession will proceed across the Graben and Kohlmarkt, through the Imperial Palace and via the Ringstrasse to the Kaisergruft (Capuchins' Crypt) on the Neuer Markt.
He was born on 20 November 1912 in Villa Wartholz near Reichenau an der Rax in Lower Austria. After emigrating to Switzerland, Madeira and Spain, as well as temporary stays in the USA and France, Otto Habsburg-Lothringen had lived in Bavaria since 1954. In the 1930s, he fought against the annexation of Austria to Hitler's Germany. From 1957 to 1972, he was Vice President, after that President of the International Paneuropean Union until 2004. This union advocates a politically and economically united democratic Europe. From 1979 to 1999, he was the representative of the Bavarian CSU in the European Parliament. Otto Habsburg-Lothringen was honoured especially for his consistent fight against National Socialism and Communism.
Otto Habsburg-Lothringen's relationship to the Second Republic was therefore not entirely free of conflict. After lengthy negotiations, he was only allowed to return to Austria in 1966 after renouncing his affiliation with the house of Habsburg-Lothringen and the associated claims to power. In 1972, there was finally a historic handshake between Otto Habsburg-Lothringen and the then Federal Chancellor Bruno Kreisky, which relaxed the relationship of the Republic of Austria to the Habsburg-Lothringen family in the long run.
The funeral in Vienna on 16 July 2011 will be attended by many representatives of the European nobility, high church officials and top representatives of Austrian, European and international politics. Otto Habsburg-Lothringen leaves behind seven children. The head of the family is son Karl, born in 1961, who is married to the art patron Francesca Habsburg.
Laying-out in the Capuchin Church: 14 & 15 July 2011
Requiem in St. Stephen's Cathedral and burial in the Imperial Burial Vault: 16 July 2011 (starting at 3:00pm)
Imperial Burial Vault
1., Neuer Markt / Tegetthoffstrasse
Daily 10am–6pm
U, Tram, Bus: Karlsplatz/Oper
U1, U3: Stephansplatz
www.kaisergruft.at
Additional information, photos, and accreditation:
www.ottovonhabsburg.org
Photos of Destination Vienna at
www.wien-bild.at
At
www.viennaphoto.com
, nearly 1000 photos can be downloaded free of charge for editorial use. Please register under "New customer registration" in the "Login" area. You will receive your access code immediately.
Austria,
www.vienna.info
,
www.b2b.vienna.info
,
www.twitter.com/ViennaInfoB2B