Sports Travel and Tours Baseball Stadium Hall of Fame Features Another Breed of 'Hall of Famer' in 2013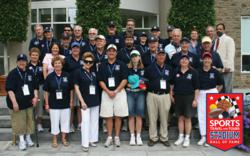 Hatfield, MA (PRWEB) August 28, 2012
This coming July, some very devoted baseball fans will be inducted into the Sports Travel and Tours Stadium Hall of Fame. The ceremony will take place in Cooperstown, NY and coincides with The National Baseball Hall of Fame's Induction Weekend.
Twelve ago years ago, Sports Travel and Tours (STAT) developed this program for fans that have attended games in all 30 Big League ballparks with Sports Travel and Tours. "We hear from our avid baseball fans all the time, that their dream is to see a game in every stadium," said Jay Smith, President of Sports Travel and Tours. "So we contacted the Hall of Fame and they allowed us to honor these special fans in Cooperstown," said Smith.
Travelers receive a custom Passport to Baseball and a stamp for each ballpark visited. Once a fan has visited all 30 ballparks with Sports Travel and Tours, they are inducted into the Stadium Hall of Fame. At the Hall, there is an exhibit devoted to these fans and an official register of STAT Hall of Famers. "This will be our fourth class since we initiated the program," said Teresa Weybrew, Director of Sales for Sports Travel and Tours. "In 2001, there were 6 inductees, 2005 brought us 17 fans and in 2009 we had 26. At present, we have nearly 30 fans eligible for Induction in 2013," said Weybrew.
When McGarry was asked "Why do you go on Baseball Road Trips?", he replied "As the movie says: For The Love Of The Game!"
"Inductees come from all over the country and have diverse backgrounds," said Christopher J. Switzer, Creative Director for Sports Travel and Tours. "We have inductees from Tennessee and Ohio, Florida and Missouri, even a husband and wife from Minnesota and brothers from Texas. A resident of the UK has traveled the farthest. The common thread throughout these inductees is their love of baseball and the monumental achievement of visiting every Big League ballpark," said Switzer.
The inductees have shared their excitement about being recognized for completing trips to all 30 Big League ballparks and for connecting with other members of this select group of travelers. "We are delighted to go into the Stadium Hall of Fame, and to be honest, we feel that this journey has been just as fun and exciting as the final destination will be. We enjoyed all the trips and working our way through all the stadiums to this Hall of Fame," said Angelo Volpe who along with his wife Jennette were inducted in 2009. "We have met and become friends with several of the other inductees during our travels and we plan on continuing our baseball trips with Sports Travel and Tours" added Volpe.
2001 Inductee Red McGarry said, "I've enjoyed the Baseball Road Trips with Sports Travel and Tours as I've gotten to meet baseball fans from all over the world and being in Sports Travel and Tours' Baseball Stadium Hall of Fame makes for some great conversation when on tour from ballpark to ballpark. I call it a "Cruise of the Ballparks" because all you need to do is sit back and enjoy each port." When McGarry was asked "Why do you go on Baseball Road Trips?", he replied "As the movie says: For The Love Of The Game!"